About Me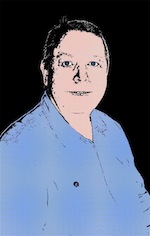 My name is Jim Margetts BEng.
I offer something more than just web design. I don't want to just build you a site, I want to craft you a web identity that is the envy of your competitors. Interested in why I think you should go with me and why I think I'm' a cut above the rest? Then read on.
My journey into graphics started at West Sussex College of Art and Design in 1977. Later I joined the Royal Air Force as a Air Photography Operator ad then qualified as a Station Photographer.
On leaving the RAF in 1983 as a fully trained photographer with various A levels, City and Guilds I worked as a Photo journalist (Crawley News, Evening Argus and then Melody Maker) and then as a freelance film planner/designer. Since then I have focussed my education and employment on computer software development in various forms.
I completed a BEng Degree in Software Engineering at University of Wales Aberystwyth in 1999.
I have worked predominantly with the following software with which I am highly proficient.
Coldfusion
HTML
CSS
ASP
PHP
Javascript and JQuery
XML
SQL Server
Photoshop
Logic Pro 8
Visual Basic
Access
1994 - 1999 - University of Wales Aberystwyth BEng in Software Engineering
1999 - Present - Worked in the software industry as an Employee, Consultant and as a Contractor